I had never been to the South before. I visited North and South Carolina but not enough to warrant me putting the states decals on the van —  a decal means you have really explored it. Georgia and Florida warranted stickers and Alabama would also or so I thought.
In my mind, Alabama has always been a symbol of the "iconic south", witness the above photo, and Hwy. 29, the back road from Pensacola, Florida to Montgomery, Alabama solidified that idea.
The terrain was flat. Logging trucks were as numerous there as in British Columbia. When I passed a $100 million dollar Georgia Pacific lumber facility which employs approximately 3000 workers, I understood why I shared the road with the semi-trucks.
A Hyundai Plant appeared out in the middle of nowhere. This plant employs 3,000 workers whose average salary is $65,000 a year.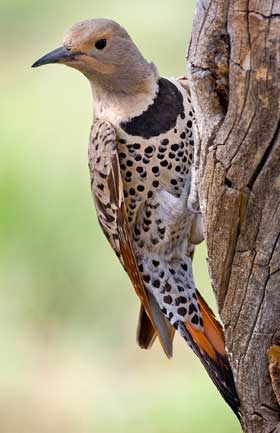 I found out the facility offers tours — wish I had known this — it would have been interesting to see robotic and human workers side by side producing engines and cars. In addition to Hyundai, there are plants for Mercedes, Toyota, Honda and the Lincoln engine in the "The Yellowhammer State".  Since the Civil War, when a company of Alabama soldiers wore uniforms trimmed with yellow cloth and were nicknamed "Yellowhammers" (because of the bright yellow feathers that flash beneath this bird's wings and tail).
Northern Flicker (yellowhammer woodpecker) showing a glimpse of bright yellow feathers under tail and wings; photo by Nature's Pic's Online .
Acres and acres of land cleared of trees and dense foliage allowed farms to thrive in the 1800s and 1900s. Now, quiet streets indicated small towns' population emigration. Signs with the words "Bushhogs For Rent" looked like the next rain would sweep them away. 
STATE RD. 31 guided the way through some of the small towns of Southern Alabama.
The contrasts of life within one mile of one another never cease to pique my interest along these back roads.
Poverty's starkness seems bleaker in the country.
Gas stations and convenience stores, road houses and signs lined the road.
Turning into Brewster, my favorite sign greeted me.
Joe moved from Atlanta to take care of his mom in Andalusia, "the prettiest town in all of Alabama during Christmas.  After 12 years though, my mother's still alive and I still haven't made any money," he told me. I said, "I bet there's a country song with those lyrics, Joe."  http://joes-barista.business.site
Alice and I strolled through the town and took in the sites. The city of Andalusia commissioned Artist Wes Hardin to paint these murals depicting the history of Andalusia. You just never know what is on the next corner.
We rolled on to Georgiana, AL, the home of Hank Williams, a lonely town. http://hpcisp.com/~turp/georgianamuseum.html
Hopping on Hwy 82, it was a straight shot to Auburn, Alabama, to begin the Civil Rights Trail the next morning. On the way to Auburn, Alabama, it began to drizzle which turned to rain which turned to hard-core torrential driving water pellets. Cars pulled over, accidents happened, Mabel plowed through the rising water slowly and surely like a freighter going through the Gulf's waves. I saw the-ever-present Walmart sign off the highway and got to that parking lot, where we stayed for the night. The rain's angle drove the water through the A/C unit grille and drip-drip onto my bed which resulted in two plastic garbage bags taped to the wood cabinet. Of course, Alice had long ago curled up on the comforter and was OUT!
The following morning, I was ready to start the Civil Rights Trail through Central Alabama, made a left turn instead of a right turn, saw  Hwy. 80 WEST, looked at Alice, said, "Alice, I'm outta here, let's go home" and we continued on west to HWY 10. The Civil Rights Trail became an unfulfilled destination and in a flash, I knew it was time for a break and head home. We did. Spent the nite in a Louisiana casino parking lot, and I drove through South Texas, up to Austin and to Taos, New Mexico.
What a gift South Texas was to my eyes–never in a million years would I ever have thought that South Texas would have been anything but a bad dream on a stormy night and once again, my assumptions proved wrong. The wide open rolling hills with cattle and wood fences and old ranch houses and pickup trucks comforted me. Tall fescue, Texas bluegrass, native bluestems filled the view from the road to the horizon—ah, nothing like the West.
to be continued……….
Take good care,
Lisa, Alice and Mabel